Corporate Events
Large and small companies alike trust us to make their business party or promotion a success.
From holiday, staff appreciation parties, picnics, grand opening celebrations and special customer events, we will make your event exciting, successful, and memorable.
Companies and Business Owners are looking for smart ways to spend their marketing dollars, and our services are proven to be a cost-effective alternative to traditional media events such as radio and television.
We are able to "create the event" for you or your company at a much lower cost compared to traditional means.

  Grand Openings and Special Customer Events

Parties Unlimited will work with your coordinator or event staff every step of the way.
We can create the same on-site "event" as a radio station remote or other media events at a fraction of the cost.
Our music can be customized to your business and we can handle announcements, giveaways, and anything else you have going on!
Whether you're promoting a Grand Opening event or launching a new product. Parties Unlimited can create the excitement and fun you're looking for.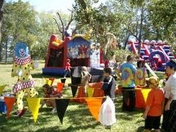 Staff Parties and Company Picnics
Company Picnics and Staff Parties can boost morale. Celebrate your employees and their successes with a great time!
We customize our performance based on your agenda. We tailor our music and style from family-friendly to "let loose"!
We have worked with large and small groups alike. It's time to celebrate.
Call Parties Unlimited Professional DJ Service today.

Corporate Holiday Parties
Company Holiday Parties can be just what the doctor ordered. The holidays are a great time to get your employees together outside of the work environment and celebrate.
Parties Unlimited Professional DJ Services can make your next event fun for all.  
Our vibrant staff of DJs will help create the kind of party your employees will talk about for years to come.
Contact us today at info@discjockeyparty.com or call 817-761-1720 or Toll Free 1-800-431-6901.
Our Corporate Clients Include Rodeo Dental & Orthodontics, NRS-National Ropers Supply, Cabelas, AT&T, Fort Worth Freightliner, XTO Energy, Caliber Collision, Bank One, TNT Marketing, PayDay One, Doc Holiday's, Snow Moving & Storage, Don Pablo's, Shady Oak Barbeque, Taco Casa, Allied Pilots Association, Southwest Airlines, Kohl's, United States Marine Corp & Kroger Foods just to name a few.